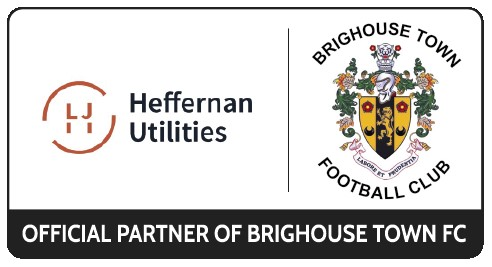 For the second match running Brighouse Town ended up drawing in the final few minutes of their Northern Premier League Division One East game. The week before Pontefract Collieries levelled in the 89th minute and then last Saturday visitors Cleethorpes Town drew level in the second minute of added time.
After early lively exchanges, Town opened the scoring in the 19th minute through Jack Normanton after Ashley Butterworth had squared the ball to him from the left. Butterworth, who had received the ball from Brandon Webster, was leading the line with the club's leading goalscorer Mo Qasim sidelined with a calf injury received in training on the Thursday night. The Butterworth-Normanton partnership linked up very well throughout the match and with steadier finishing the game could have been put to bed.
At the back acting captain Darius Smith, Matty Nebard, Sam Bentley and Sam Drake kept the visitors checked in the first 45 minutes and for 18 minutes into the second period before they equalised through Harry Lewis who beat Jamie Hassall at his near post.
Cleethorpes were only on level terms for two minutes before Town went ahead again through new boy Cameron Bedford after substitute Curtis Peters had worked the ball forward for another new kid on the block, Jordan Helliwell whose shot was parried out by James McKeon and there to prod home was Bedford.
Town, with the extra steadying influence of Peters, the former Bradford City player, looked to be managing the game out despite some late pressure from the visitors and the long throws of AJ Adelekan, when referee Mark Reeves gave them a free kick out on the right some eight metres from the corner flag and with two minutes of added time left. The ball was whipped in and striker Josh Walker headed in to beat Hassall.
Town travel on Saturday to Nottingham to take on an improved Carlton Town, but in saying that they lost 4-0 at Ashington last Saturday. It will be the last game for both Josh Grant and Jack Dando to serve of their three match suspensions and then they could be selected for next Tuesday night's re-arranged away game at Ossett Town (7.45).
Another player in contention for the next two games is strong midfielder Jack Crook (leg) who has been sidelined for the past five weeks.
Centre-back Jamie Allsop has gone out on dual registration to Albion Sports after spending the last few games as an unused substitute.
Vill Powell reckons leading goalscorer Mo Qasim could be around 10 days before he is fit from his calf injury and could miss those games.
Elland-based midfielder Will Calligan has left the club after a month to search for pastures new.
@ Brighouse Town Women's team won 4-0 on the Sunday away to Ilkley Town Reserves. However player-manager Cara Mahoney said the hosts made it very difficult for her team in what was a good game. Casey Hadwin scored all four goals for Town.
This coming Sunday Town Women entertain Leeds Hyde Park first team in the County Cup (2pm). "They are near the top of the First Division so it will be a hard game for us," added Mahoney.